Thanksgiving Buffet
A spectacular buffet in the Double Barrel Kitchen, featuring all of the traditional Thanksgiving favorites.
Includes: Traditional Holiday Buffet, Coffee, Tea and Soda.
Excludes: All alcoholic Beverages; Full Bar will be available, tax and gratuity
Thanksgiving Menu 2022
SOUP & SALAD STATION
BUTTERNUT SQUASH BISQUE
CLAM & LOBSTER BISQUE
CAESAR SALAD
FIELD GREENS SALAD
CARVING STATION
ROAST SAGE BRINED TURKEY
Savory Gravy
Cranberry Chutney
ROAST BERKSHIRE PORK LOIN
Pincante Sauce
Apricot Mostarda
SIDE DISHES
WHIPPED YUKON GOLD POTATOES
Creamy and Buttery
SAVORY HERB STUFFING
Cornbread & Vegetables
SWEET POTATO GRATIN
Parmigiano Reggiano & Cream
ROASTED BRUSSELS SPROUTS
Smoked Bacon & Maple Cream
ITALIAN GREEN BEANS
Roasted Red Peppers, Herbs, Olive Oil
GLAZED BABY CARROTS
Preserve Honey & Butter
DESSERTS
APPLE PIE
PUMPKIN PIE
TRIPPLE CHOCOLATE MOUSSE
TIRAMISU
Price: $65.00 per person; $30.00 for children ages 4- 12; children 3 years and under are free
22% Gratuity will be added to all bills, $50/person wine pairing
Please note: The Clubhouse and Double Barrel Kitchen require a resort casual dress code. Men must wear collared shirts and closed toe footwear.
Flip Flops, sneakers, t-shirts, tank tops, sweatpants, yoga pants, sweatshirts, ripped jeans, shorts, bathing suits and cover-ups are not permitted in the Clubhouse.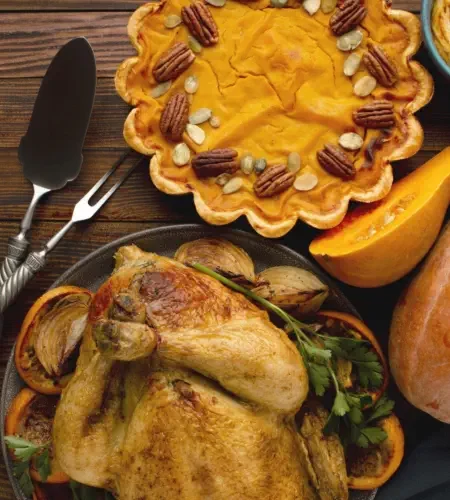 Thanksgiving Buffet
For More Information
Lori Mihailides
401-539-4653 x5
53 Kingstown Road, Richmond, RI, 02898, United States | 401-539-4653