For More Information
Caroline Parker
401-387-4185
Mark your calendars for Blaser Day, July 8, 2023 and get ready for a day of fun, excitement and exclusive experiences at the Sporting Shoppe!
This special event includes a private shopping experience presented by the Blaser Team, along with custom gun fits by Blaser Certified Gunsmiths, clays shooting tips by Blaser Sponsored Shooters, afternoon simulated driven clays experience, minor wood adjustments available on-site, a 10% discount on any in-stock firearm for all attendees, and delicious meals by Chef David Burke, including breakfast, lunch, and a world-class dinner. Overnight accommodations, room blocks, and additional activities are also available. Don't miss out on this incredible opportunity to immerse yourself in the best of the sporting life, learn from the experts, and make unforgettable memories at the Preserve Sporting Club.
The Preserve Sporting Club & Residences is a premier sporting club that offers world-class hunting and shooting facilities, luxurious accommodations, fine dining, and a wide range of recreational activities. Situated on over 3,500 acres of picturesque countryside, the club features numerous amenities, including a hunting lodge, multiple sporting clays courses, over 10 fishing ponds, and more. The Preserve is dedicated to providing its members and guests with an unparalleled experience of the great outdoors and the sporting life, all within a comfortable and welcoming atmosphere.
---
Friday, July 7th
5PM – 7PM
Night Before Private Shopping Experience with Team Blaser in The Preserve's luxurious Fine Gun Room. Invite and Blaser Day attendees only. Delicious, passed apps and exclusive firearm pricing for attendees.
*Overnight accommodations are available for any attendees looking to extend their stay experience.
Saturday, July 8th
Blaser Day – Main Event Schedule
8AM – 9AM
Enjoy a hearty breakfast at The Preserve's Main Lodge.
9:30AM – 12PM
Experience a Blaser Gun Demo with professional shooter, Bill McGuire on The Preserve Warming Hut Training Deck.
12PM – 1PM
Fuel up with a light lunch served at The Warming Hut before heading out for even more shooting fun to be had.
1:30PM – 3PM
Put your skills to the test on the Simulated Driven Course with a round of sporting clays and some friendly competition.
3:30PM – 5:30PM
Head over to The Preserve's Corporate Clays Course for a 75-clay round with Blaser Team Staff Members for various targets set to showcase the very best of Blaser's craftsmanship.
7PM
End the day with good company and great food, as you and Team Blaser sit down to savor Chef David Burke's Double Barrel Steak in our private dining room.
Don't miss this one-of-a-kind experience to indulge in the finest game dishes, pick out the perfect gun, and learn from the best in the industry. This event is perfect for hunters and gun enthusiasts alike.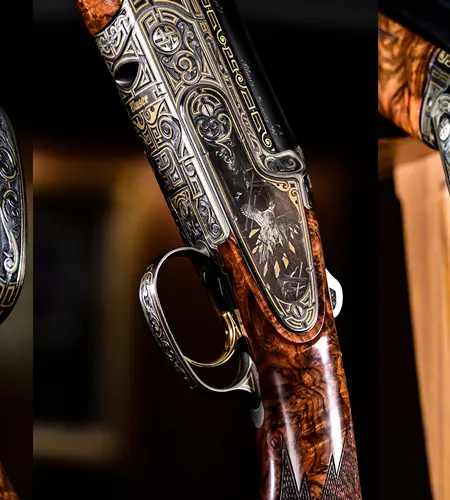 1 Preserve Boulevard, Richmond, RI, 02898, United States | 401-539-4653