David Burke's Valentine's Day Dinner
David Burke's Valentine's Day Dinner
We invite you to celebrate Valentine's Day with your loved one at The Preserve with a carefully curated dinner from world-renowned Chef David Burke in the Double Barrel Kitchen.
---
Valentine's Dinner Menu by Chef David Burke
Small Plates
Crab Cake Pretzel Raft
Old Bay Aioli, Tomato & Onion Jam ∞ ∞ $24
Charred Octopus
Marcona Almond Gremolata, Cauliflower Puree, Castelvetrano Olive, Sorrel, Chorizo ∞ ∞ $28
Caesar Salad
Sour Dough Croutons, Shaved Parmesan ∞ ∞ $16
Wedge Salad
Tomato, Pickled Onion, Bacon, Crispy Fennel, Blue Cheese ∞ ∞ $15
Beef Tartar
Gaufrette Chips, Cornichons, Cured Egg Yolk, Pecorino Romano, Frisée ∞ ∞ $22
Lobster Dumplings
Tomato Miso, Radish ∞ ∞ $21
Clothesline Bacon
Maple & Black Pepper Glazed, Pickles, Lemon ∞ ∞ $24
Large Plates
Skate Wing
Blood Orange, Brioche, Cauliflower, Watercress, Capers, Lemon ∞ ∞ $42
Roasted Lamb
Au Gratin Potato, Herb Crust, Heirloom Carrot ∞ ∞ $42
Halibut
Maitake Mushroom, Citrus Beurre Blanc, Swiss Chard, Sunchoke Chips ∞ ∞ $46
Dry-Aged Kansas City Sirloin
20 oz, 1000 Layer "French Fries", Foie Gras, Spinach ∞ ∞ $65
Short Rib "French Onion Soup"
Pommes Puree, Fine Herb, Mustard Seeds, Gruyere Gougeres ∞ ∞ $40
Pork Chop
"Clams Casino Style", Peppers, Onions, Lemon ∞ ∞ $40
Branzino
Ratatouille, Basil, Artichoke Puree ∞ ∞ $38
DB Roasted Chicken
Wild Mushroom & Asparagus Farotto ∞ ∞ $33
---
About David Burke
Fueled by passion, grit and a knack for artful innovation, David Burke is one of the best known and most respected chefs in modern American cuisine.
Acknowledged as a leading pioneer in American cooking, Burke, a New Jersey native, is also recognized internationally for his revolutionary techniques, exceptional skills, successful restaurant empire and his many TV appearances. In the parlance of today's celebrity driven culture, he is a rock star of the culinary world.
At just 26, Burke's kitchen mastery won him the executive chef position of New York City's legendary River Café. While there, he became the first American ever to win the prestigious Meilleurs Ouvriers de France Diplome d'Honneur, cementing his reputation as a leading international chef. He subsequently won Japan's Nippon Award for Excellence, the Robert Mondavi Award of Excellence and two nominations for James Beard Best Chef. Burke was also awarded a coveted three-star New York Times review for the River Café and later became a familiar guest on TV's Top Chef.
Chef Burke's honors and awards are too numerous to catalogue, but include such notable recognition as:
Meilleurs Ouvriers de France Diplome d'Honneur. The only American to win this honor
Japan's Nippon Award of Excellence
Robert Mondavi Award of Excellence
Culinary Art Institute's August Escoffier Award
James Beard Foundation Who's Who in Culinary Arts
Nation's Restaurant News awarded him with the Menu Masters Award
New Jersey Red Cross Clara Barton Humanitarian of the Year
James Beard Foundation Best Chef New York
Time Out New York Best Culinary Prankster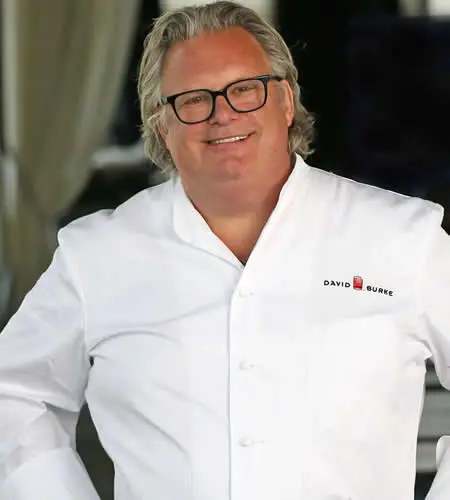 David Burke's Valentine's Day Dinner
For More Information
Lori Mihailides
401-539-4653 x5
53 Kingstown Road, Richmond, RI, 02898, United States | 401-539-4653